AMSCRAFT.CO
Welcome to AmsCraft! AMScraft is a Percy Jackson lore based Minecraft server. We branch off of the lore of the book and movie series written by Rick Riordan; Percy Jackson's Greek Gods, The Heroes of Olympus,and Percy Jackson & the Olympians. We mostly do also go off of Hesiod's wirtten literature of Ancient Greek Religion.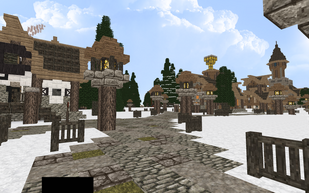 AMScraft is a Minecraft Server that allows players to interact with other members that also enjoy Minecraft, Percy Jackson, and Greek Mythology. Many players are usually on, and are always welcoming to new players, and especially our staff who guide any new players that require assitance, directory, or any basic help. When first coming on the server, you appear in our spawn. Above you are directions and a path you follow to get claimed by your godly parent.
Godly Parents - Upon entering the server for the first time, you get items in your inventory. One thing in particular is called "Claim." Above you, it shows that you can follow the signs which you will see in the air and follow the path to use this item. When you follow the signs and path, you will be lead to an area where you hold the item called "Claim" and you right click to get your godly parent.
"Claim." You only get the 'claim' book once, as is directed. When you roll for your godly parent and you do not like this person, you can left click to see a list of options of the gods you can pick from that are free.
Zeus, Poseidon, Hades, and any others - If you do not want one of the free gods and want to become a child of the big three, or any other god you can go to http://amscraft.co/store to donate and become any child of the big three, or any other titan or godly parent you want. (THIS IS A NEGOTIABLE RANK. THE PRICE OF THIS RANK IS DETERMINED BY OWNER IZZY K, DEPENDING ON STATUS AND POWER OF WANTED GOD.)
AMS INFO
In AMS, you can explore the landscape, interact with other demigods/demititans, go on quests, and build amazing creations. AMS Demigod has a questline set up, which includes many characters from Percy Jackson such as Leo Valdez, Son of Hephaestus. Players can interact with these NPC's to get information about the quests, and how to continue them. Each quest is different, and leads you to many places through Camp Half Blood, the Argo, and many other fun Percy Jackson and Greek Mythology related buildings and areas.
Players can build things and keep buildings and creations safe from griefing and stealing using basic commands of /claim. Upon entering AMS Demigod for the frst time, players will be handed automatically a book on basics of claiming, how to protect your land, and how to expand claims to fit your whole area you'd like, and how to trust others with permissions to edit your claim, open chests, and doors. Staff are usually on all day on AMS Demigod and if any required assitance or help is needed, you can ask in chat for assitance where either players or staff will guide you with the needed help on any topic.
If new players have any information about AMS Demigod, they can contact Izzy K, owner of AMS Demigod via discord where they can chat, negotiate donations for ranks, add-ons, and perks. If any help is required, Izzy K will guide you on any topic and he makes the final decisions. AMS Demigod also includes a discord server where any players can join and interact with the people there, ask about different things, Roleplay help, and can go into voice calls with others to communicate via voice or text.
If you require assistance or help from the AMS Demigod server owner, please contact Izzy K via discord or AMS Demigod when he is online. IzzyK#4247 is his personal discord account where you can contact him on any questions about AMS Demigod, the discord server, or donations.